The world enters into the new normal where businesses would navigate through uncertain times. The once shaken business industry is now finalizing continuity plans to recover from the negative impact of the pandemic crisis.
Sale downturns left the fate of some businesses still hanging in the balance. Regaining its ground is MALAYA CLOTHING PH. In hindsight, the owner Vhogieson Ajel believes that consumers are to support local brands.
Before the lockdown, Vhogieson would bring his items to outlets and during gigs. Aside from being an entrepreneur, he is a seasoned musician – the percussionist of the band Spliff Ends. He is his brand's best endorser when he wears Malaya t-shirts on stage and in music videos.
Now as businesses go digital, Malaya Clothing PH is leveling up via social media platforms. "We will utilize omni channels and embrace the digital world to make our items easily available in the market. To provide customers with more convenient ways to buy our t-shirts and other items."
"We're selling our products online. We are also negotiating with online sellers as business partners. While buyers may send me a message through the Malaya Clothing PH Facebook page and I will personally extend customer service", says Vhogieson.
Though Malaya t-shirts are visibly worn by music artists, it is a streetwear brand for all genders and ages. Hence, the Malaya business team is expecting a surge in demand and deliveries.
Its best-sellers are t-shirts, Malaya Lombok (trucker hat), 5-pannel hat, Waway de Malaya (buckets hat), Pipa De Malaya (wood tobacco pipes), Malaya Tobaccos, and the Kuwintas De Malaya (necklace).
The t-shirts have a variety of designs –  the "OG" logo, "Baybayin", "Lombok", "Teepee & the Waves", "MCphHKST", "Circle of Friends", "Morse Code", "Standard" logo, "Outline" logo "DXB", Space Monkey, Admiral Peppery, Collab Shirt, and a lot more.
The direction set by Malaya Clothing PH is to give respect to ancestors and appreciate Filipino heritage by showcasing the ancient 'baybayin' alphabet. Malaya's designs are to evolve but the logo stays visible.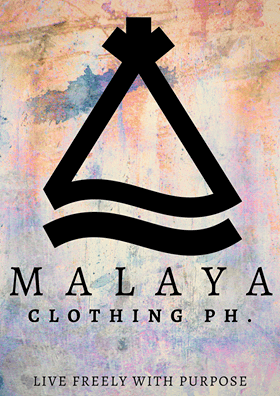 Its logo represents the core value: "to live freely with a purpose". It stemmed from Vhogieson's realization about life while in Dubai where he worked for a few years.
It was borne out of homesickness. He thought of mountains and sea waves which are incorporated into the logo. The shape depicts a triangle with three-pointed lines on top forming a tipi (a traditional tent). And his love for freedom, thus the name "Malaya". The logo represents the mind, body, soul, earth, wind, fire, and water.
Ironically, Vhogieson has an image of a native American Indian with peace pipe tattooed on his chest to represent balance, harmony, and sacredness of life. While the Malaya logo is permanently inked on his arm by Kalinga tattooist Claire and by the last living 'mambabatok' Apo Whang-od who is considered as the country's living treasure.
As Malaya Clothing PH is all set to adapt to the new normal, it takes adequate precautions to safely handle their products ordered online or brought from outlets.
Vhogieson believes that t-shirts remain relevant just as essential goods are important nowadays. A good shirt represents one's unique individuality and style that no pandemic can take away from a person.
For orders, you may send a message to the Malayaclothingph Facebook page.